Living Rooms Page 6

Welcome to our Living Rooms Page 6

Here you will find Living Room Sets created by Cathy & Zita. Just click on the name sets below download.
Basic Antique Sets; Choose rugs to your taste on our Rugs page, Tall Cabinets in Single Objects, Decorative. Paintings in Objects, Paintings.
Antique Surfaces Set requires Lucas Sideboards Mesh (Next to Lucas Tall Cabinet Mesh). Meshes
MESHES: Modular Sofa Sets v1.


Wirapuru Modular Sofa Set at MTS2 : Modular Set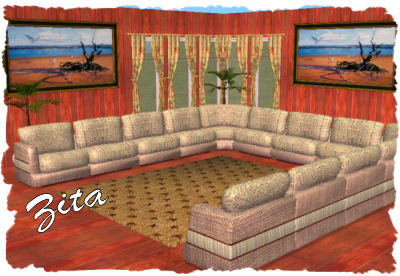 Zita Coonabarabran Set.
MESHES: VINTAGE LIVING SETS .

Crowridge Studio's Vintage Living Set at MTS2 : Vintage Living Set


Lucas Tall Cabinet Mesh. Meshes




You'll find suitable rugs and the wonderful Echoes RUG MESH in our: RUGS section







The 3 Living Rooms below were recoloured using Reflex Sims Comart Meshes and China Fan Sims Curtain Mesh. We have included a text document with each zip telling you which mesh set was used. You can get her meshes from her website Reflex Sims.
China Fan Sims Curtain: China Fan Sims.







MESHES: RATTAN LIVING SETS .


Plants: Big plants from 4ESF Office 2 and Living 5 : Plants
Blinds from Peggy Sims, Objects p 16: Blinds.
Hanging ivy from yggdrasil at spiffy sims Downloads,TS2 Objects Furniture, Rugs Plants and Decorations: Yggdrasil Hanging Ivy.
Another thing and andanotherthing end tables from Jendea; Objects, End Tables : Jendea.


And ofcourse the wonderful Echoes RUG MESH from our: RUGS section







Home/Contact/Links/Privacy Policy


Houses/Objects/Walls & Floors/Rugs/Gardening
Terrain/Skins & Genetics/Donations/Programs


This site is not endorsed by or affiliated with Electronic Arts, or its licensors.
Trademarks are the property of their respective owners.
Game content and materials copyright ElectronicArts Inc. and its licensors. All Rights Reserved.

Site created by Zita & Jewel
Copyright 2005-2008 Aussie Topenders Sims2 - All Rights Reserved